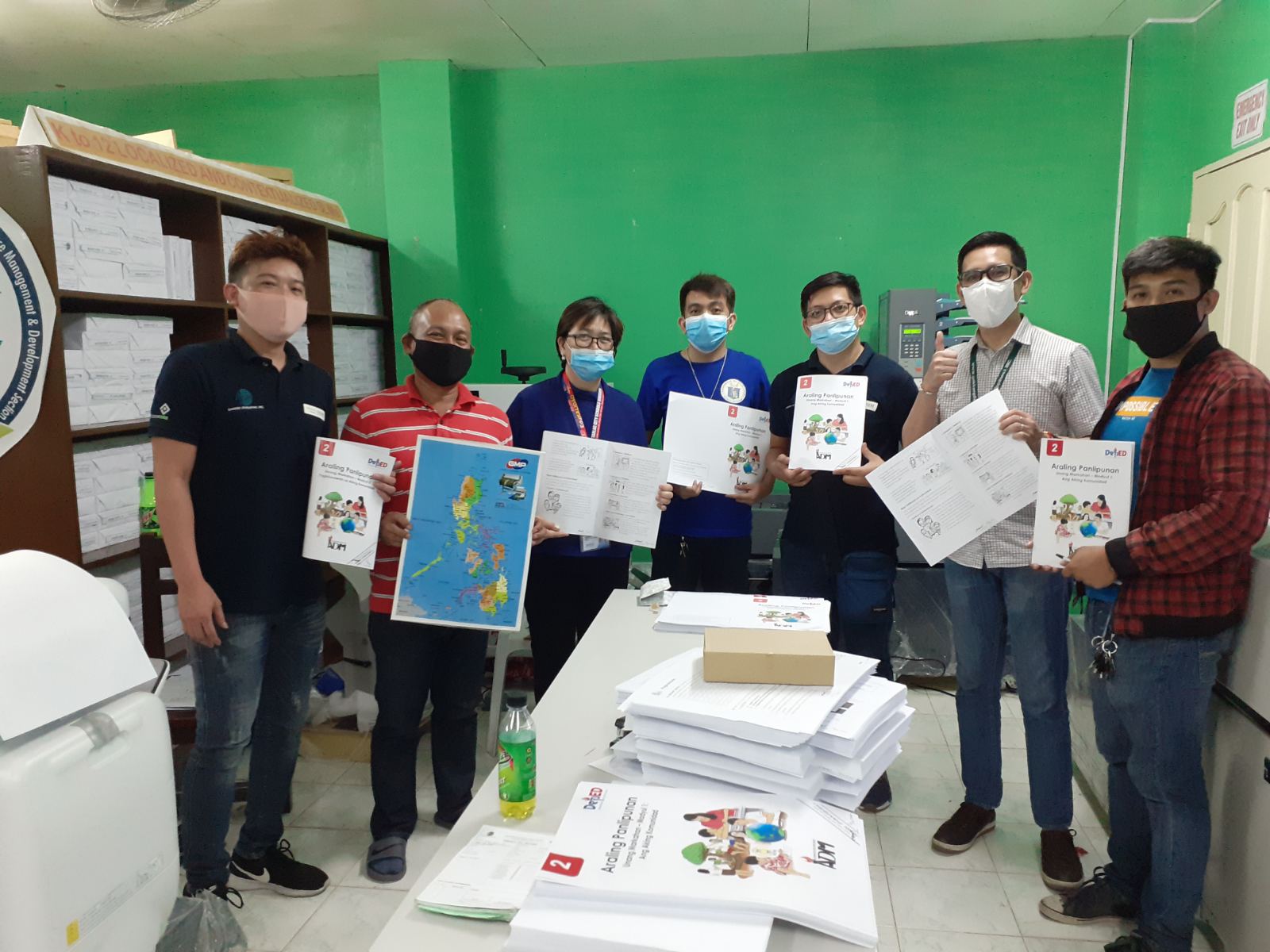 'Very Timely' – DepEd Tarlac Discusses Print-To-Finish System Setup of GAKKEN (Philippines), INC.
The COVID-19 pandemic truly has affected everyone. From various businesses of different sizes, to each sector of the society – each must find ways to cope, adapt and rise above this crisis. The education sector, for one, is constantly finding ways to pursue its learning continuity plan. 
The Department of Education Tarlac City Schools Division Office is one of those who welcomed an opportunity to be efficient amidst these trying times. Through the help of the Local Government Unit (LGU), they have successfully acquired the Print-to-Finish system set up that allows them to not just print in mega volumes, but also book bind, do electronic cutting, auto creasing, laminate, collate and more. 
Print-to-Finish Useful For School
Ms. Lily Beth Mallari, Education Program Supervisor of the Learning Resources Management Section (LRMS) of DepEd Tarlac City Schools Division Office finds the installation 'useful'.
"The Print-to-Finish system set up was useful for the whole Division. We are now able to print volumes faster. This allows us to become more efficient in what we do," explains Ms. Mallari. 
Read here about our Print-to-Finish system set up
The COVID situation laid down different modes of learning, but the modular distance learning was a more popular choice than online learning, where both students and teachers responded that it required them to buy costly laptops and wifi connection. The Self-learning Modules (SLM) are print-outs that give learners a different mode of learning.
"GAKKEN (Philippines), INC.'s delivery was a welcome development for us. The machines came in at a time when it was needed, especially now the school opening is upon us. We are now able to print more and create modules that are very useful for the learners. Very timely indeed." added Ms. Mallari. True enough, this Print-To-Finish setup is now ready to reproduce thousands of copies of standardized modules and textbooks, just in time for the upcoming school year.
GAKKEN (Philippines), INC. Very Helpful On Print To Finish Installation
Ms. Mallari also praised GAKKEN (Philippines), INC.'s installation. "They took care of us, and were very helpful in our technical concerns. They always call to check if there are problems. Thank you, GPI!", she exclaimed.
GAKKEN (Philippines), INC. is also grateful for the people in Tarlac for choosing us to be able to help not just the officers and end-users in DepEd Tarlac City Schools Division Office, but ultimately help our learners.
For more information about the Print-to-Finish set-up, you may message GAKKEN (Philippines), INC. on Facebook and Linkedin. We post regular updates on these sites including promos and special discounts. You may also Fill our Form here or call (+632) 7748-8334 and (+632) 8725-9373 for other details.