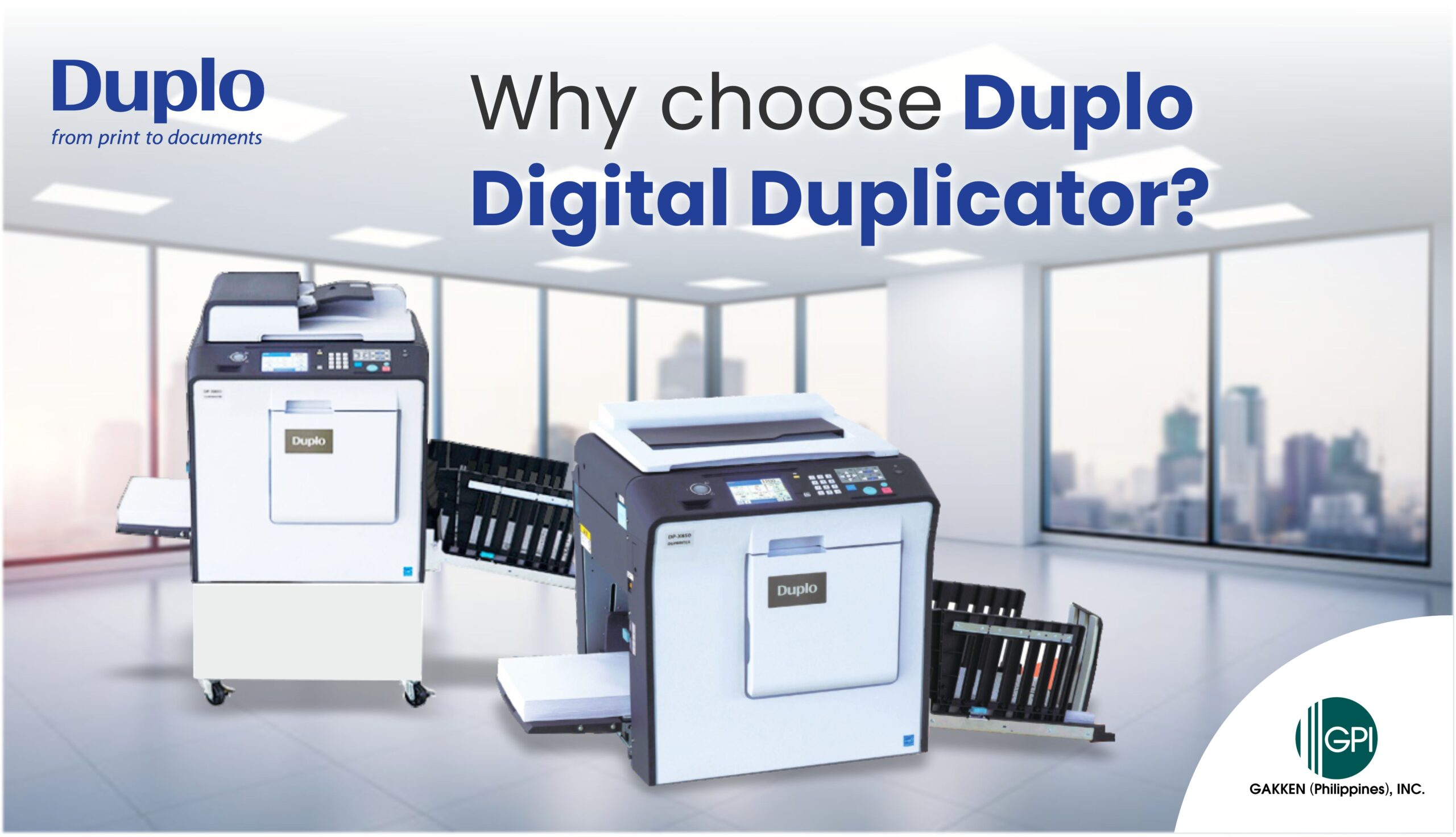 Why choose Duplo Digital Duplicator?
Duplo has been manufacturing duplicators for over six decades now. Its duplicator has the ability to go from 16 lb. to 110 lb. card stock with only few adjustments, making them as versatile as they have ever been. They're capable of feeding an increased variety of substrate. They can also feed carbon-less paper and newsprint, which are difficult for copiers to feed.
A lot more similar to a printing press than a copier, duplicators are designed to handle the long runs that certain sectors, such as public schools, require while keeping those costs low. It's time to rediscover and maximize the benefits of this valuable tool.
1 LOW COST-PER-COPY
It starts with rapid master making. Place your document face down on the flatbed scanner or use to optional automatic document feeder (ADF) to scan up to 100 sheets. Once set, the machine quickly scans the document and makes the master within 18 seconds. With the master wrapped around the cylinder, the ink which is fast drying and far less expensive than toner is pushed through the stencil master to print the image. The cost of the master is shared by the total amount of copies produced so the more you print, the less your cost-per-copy will be!
2 HIGH-SPEED QUALITY PRINTING
Duplo duplicator are designed to handle the long runs that certain sectors require and at faster speeds. Models are equipped with a thermal digital master making process with a scan and print resolution of 600 x 600dpi and prints at blazing speed of 200ppm. The high stacking capacity on both feed and receiving tray offer uninterrupted productivity. You can feed a variety of paper types including fine, coarse, recycled, cards, and envelopes up to 110 lb. index.
3 COLORED PRINTING
Create added value to you documents by adding a spot color. Duplo offers a selection of 13 standard colors and unlimited custom shades to choose from to meet your needs. A variety of colored inks are available on the whole Duprinter range. A pantone color service is also provided should a specific color be required.
4 EXTENDED LIFESPAN
Digital duplicator are highly economical in both equipment and operating costs. While copiers last an average of three years, Duplo duplicator are rated to last seven years or 10 million copies and have proven to last a lot longer with most units still running after 10 years.
5 ENVIRONMENTALLY FRIENDLY
Digital duplicators do not emit ozone or generate any heat, making them ideal for high volume applications. Without the use of toner, there is no toner dust circulating in the air. Duplo duplicators are Energy Star qualified so they consume less energy, lowering electric bills. All models consist of biodegradable materials and use rice-based inks, which contain low levels of VOC's and minimize the release of toxins into the air.
6 CONNECTIVITY
Desktop printing is effortless and easily accessible with the USB printing, providing enhanced image quality of documents which are printed directly from a work station with the optional network printing is available to everyone on the network.
*Machine specifications are based on DUPLO DP-X Series Digital Duplicator .