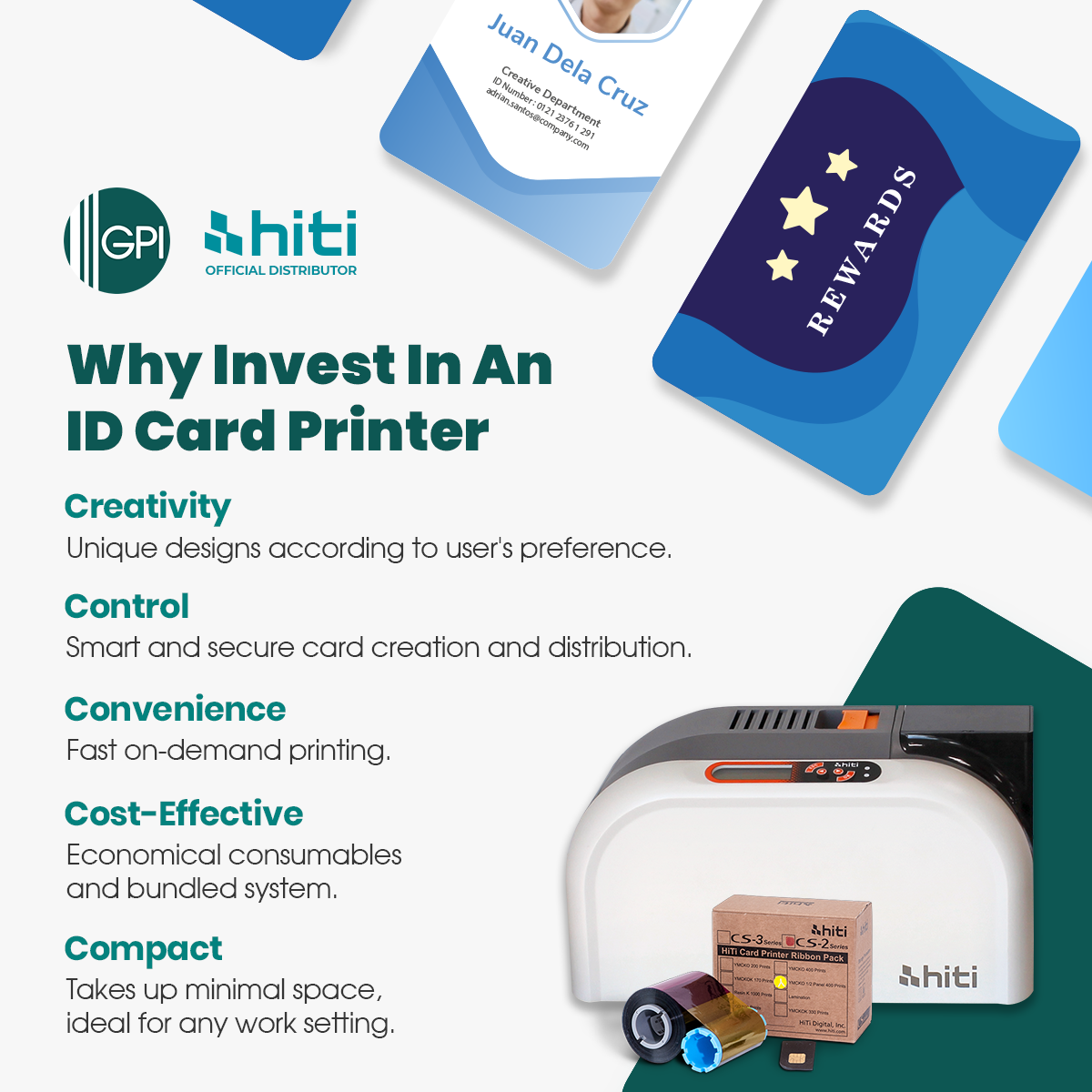 HiTi Card Printer Promo Ends October
This end of October, one promo ends with a bang!
As a business owner, there are plenty of reasons why you should invest in the HiTi CS-200e Printer, the ideal solution for ID Card Issuance.
GAKKEN (Philippines), INC., the Official Distributor of HiTi Digital Products in the Philippines, offers an exciting promo with the amazing Hiti Card Printer. This promo ends October 31, 2020, so hurry! 
Offers 5Cs for your business:
Creativity
Unique Designs according to user's preference
Control
Smart and secure card creation and distribution.
Convenience
Fast on-demand printing.
Cost-effective
Economical consumables and bundled system.
Compact
Takes up minimal space, ideal for any work setting.
The HiTi CS-200e Direct-to-Card Printer is now priced at P69,999 (From P79,000) for a limited time only!
– FREE initial set of consumables: 1 YMCKO 400prints Ribbon + 400pcs Blank PVC Cards
– FREE Card Desiree Software (card designing)
– Batch Printing capability
– High Quality Card Print Outputs
– Low Cost-per-print
– Print-on-demand or High-volume production
– Easy to Use
– Durable and Reliable Printer
– 2 years Standard Warranty
– Lifetime FREE Service
– FREE Operator's Training
– FREE Delivery within Metro Manila
– Stocks are ALWAYS Available
– Open for RESELLERS / DEALERS
Now is the great time to get your hands on it!
Call us or visit our offices at:
– San Juan, Metro Manila
– Pangasinan
– Bicol
– Cebu
– Davao
(02) 8721-2366
(02) 8721-6144
(02) 8721-2251`
gpimarketing@gakkenphil.com
https://www.instagram.com/gakkenphilippines
https://www.youtube.com/user/GAKKENPhilippines
https://www.linkedin.com/company/gakkenphilippines
#gakkenph #gakkenphilippines #gpi #printers #businessprinting #printingequipment #printtofinish #presentationsolutions