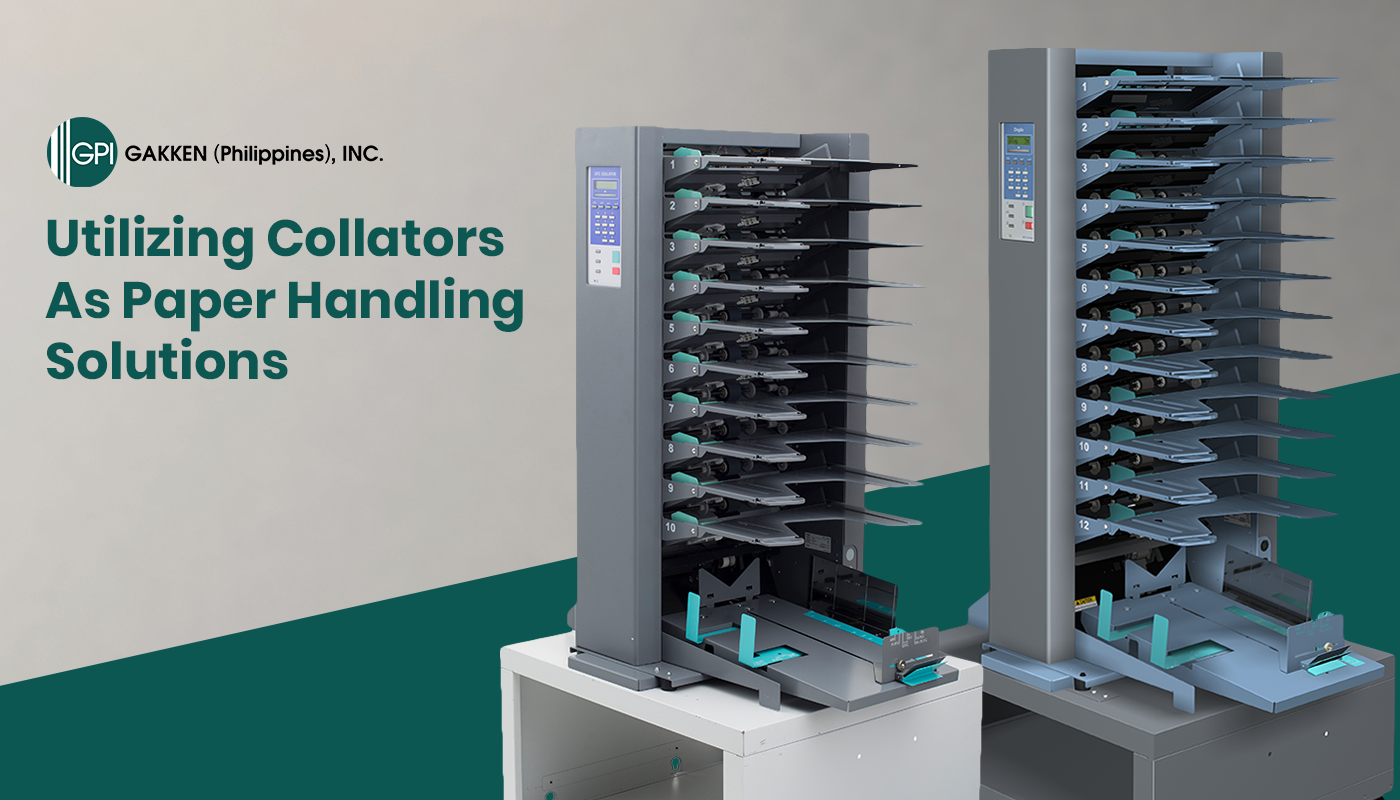 Utilizing Collators As Paper Handling Solutions
The printing market is here to stay. And with the voluminous publishing requirements emerging from industries transitioning to remote operations, the need for paper handling solutions is more crucial now than ever. According to a 2021 trends report, 64% of businesses agree that printing will remain relevant for the next five years.
For sectors like education, implementing a modular system means gathering and arranging multiple sheets of printed materials in a specific sequence. These specialty tasks have different paper requirements that need special collating set-ups. 
A collating system must be integrated into the print finishing process within a given print job to create workflow consistency and efficiency. In this post, we'll rediscover how well collators can blend with the entire operation when utilized correctly.
But first, what does collate mean in printing?
When handling a printing project, collating means accumulating and combining printed materials to create a complete set. This method is often used when dealing with books, catalogs, and instruction manuals.
Depending on the project's complexities, collating can occur within the printing process as most printers in the market nowadays already have collating features. However, it can also be done as a separate step after the materials have been printed and removed from the press using automated pieces of equipment called collators. 
When is the best time to use collators?
Short-run Projects 
These types of publications are often executed by schools, print shops, copy centers, mailrooms, and offices to group paper sheets into sets. Collators are used for short-run projects to create promotional packets like materials used for seminars, presentations, or other multi-page documents collated for easy distribution and are not necessarily bound or fastened together.
Perfect Bound Materials
Before a set of materials could be bound together, its pages have to be collated in numerical order and follow a pre-determined sequence. Collators are used for these kinds of outputs because they usually have high-volume requirements per set, which can be prone to human errors that could result into waste of resources.
Types of Collators
Photocopier Sorter
This is the most common type of collator generally seen in offices. With a series of trays attached to a copier machine, a document is usually prepared for copying and collating at the same time.  During the operation, the copies will be split into the trays of the collator to organize and separate sets from each other. 
Photocopiers with automatic sorters also have finishing options that minimize manual operations even further and increase the production of different types of documents.
Desktop Collating Machines
Rather than a manual lever, desktop collating machines are operated with electronic controls. With this type of collator equipment, the trays carry different pages of the document. Upon a press of the lever, each of the trays will release one page to create a complete set of materials as programmed. 
Advantages of Collators
Saves resources
Whether we admit it or not, manually collating documents does not only take forever but also put our resources at risk. With collators designed to operate and follow a series of programmed sequences, users can be at ease that each set comes with more accuracy and has no extra finishing labor.
Faster turnaround time
For high-volume production, time is of the essence. Paper collators take care of everything from gathering individual printed sheets up to grouping them into sets. Some of these machines even have an operating speed as fast as 130 sets per minute. 
Adaptable to various applications
Most collators available in today's market are very adaptable to different applications. From catalogues, leaflets, pamphlets, multiple flyers up to letter fold samples and books — you name it! These collating machines can accommodate your paper handling needs and make the entire process hassle-free on your part. 
Recommended Paper Handling Solutions by GPI
Duplo DFC 102 Table Top Collator
This three-ring friction feed desktop collator provides reliable feeding of wide range of materials and operates at a speed of 130 sets per minute for A4 long-edge feeds. Designed with increased versatility and convenience, DFC 102 has a paper feed bin capacity of 28mm and a maximum paper stack capacity of 80mm. This machine can be connected with DBM 150 and DBM150T to configure the world's smallest booklet-making system, which is Duplo 150Fr.
Duplo DFC 122 Table Top Collator
Equipped with reliable feeding and accurate stacking functions, DFC 122 Table Top Collator can produce 100 sets per minute, depending on the paper specifications. Aside from its high-speed features, this friction feed vertical collator offers a cost-effective solution for your finishing needs. Like DFC 102, it can work as a standalone unit or as part of a collating/booklet making system with DBM150 and DBM150T (Trimmer).