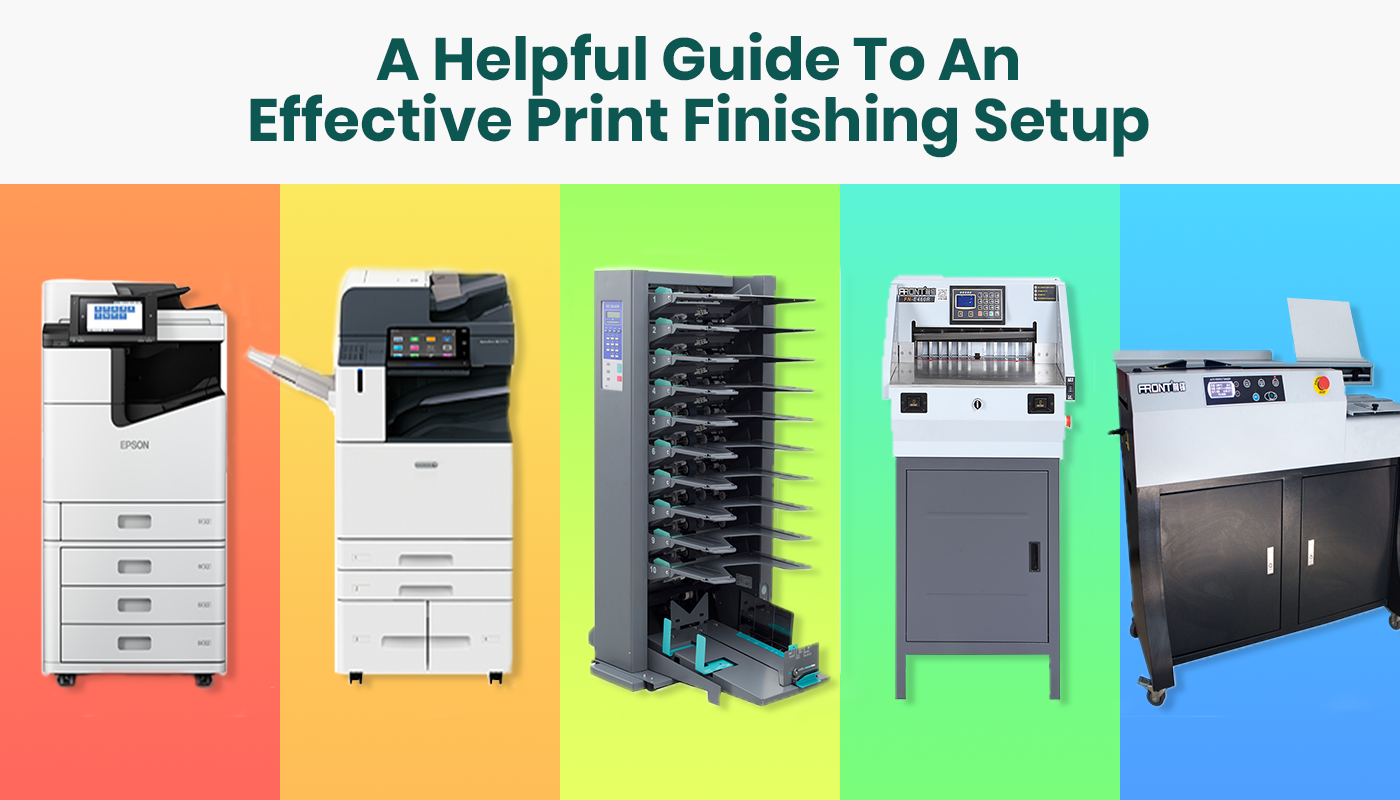 A Helpful Guide To An Effective Print Finishing Set-up
With the COVID-19 restrictions still in place in the country and worldwide, the demand for modern technology applications to enter the publication scene is now more crucial than ever. 
Print-to-finish systems have been an evident requirement, especially for industries transitioning to remote operations like the education and business sector. To fulfill their continuous printing needs, publishers have to focus on quality mass production and concentrate on unique individual requirements and personification. 
Lucky for you, GAKKEN (Philippines), INC. offers efficient system packages that allow users to remotely print and systematically sort their papers with maximum productivity. But before we pounce on our recommendations, let's get you oriented into the print-to-finish process. 
The Print-to-Finish Process
Amidst the extensive list of products and innovations applicable in today's current printing market, the print-to-finish process strongly identifies as a low-cost and high value-added solution to achieve objectives and deliver spectacular results. 
This solution takes productivity to a whole new level. It adds value to your workflow not only through fast printing but also through efficient stacking, stapling, binding, and other finishing processes all in one package! 
Printing Capacity & Speed
For printing high-volume projects like books and modules, it's important to keep the capacity and speed of your printing machine in check.  
An excellent example of these is the Epson Line Inkjet Printer. Printing machines like the EPSON WF-C21000 have an extremely efficient function designed to fulfill voluminous colored printing requirements which can print up to 100 pages per minute. Many times faster than other traditional printers, this printing tool is worth adding to your workforce.
Your printing workflow can also be expedited if the printer of your choice is integrated with an extensive paper feeder capacity and a full-suite wireless connectivity that allows users to print from home or wherever their businesses take them. 
But of course, capacity and speed should never compromise the quality of prints. As you scroll through vast selections, keep in mind that high-resolution output is still the priority of the entire process. 
Listed below are the essential solutions users can rely on to execute a seamless print to finish workflow and their technical capabilities that exceed industry performance standards. 
Paper Cutters
Every print-to-finish set-up is not complete without a good paper cutter; the only question is which one should you choose? After every printing operation, there will be times when you'll need to trim stacks of paper depending on the given requirement. Sheets have to be cut in order to fit folding machines or other binding equipment.
Today's paper cutters come down in two kinds, the Manual and the Electric Programmable type. Each kind offers convenience and efficiency depending on desired volume and speed. 
Manual paper cutters are most commonly found in homes or offices. Equipped with sharp blades and great measurement guides on the working surface, users can cut through multiple sheets of paper at ease. 
But if you're dealing with an extremely high volume of paper and want to get it done faster, electric cutters are the trimmers you should consider. These machines can be considered expensive upfront but they actually save you money with reduced operation time and waste. 
Collators & Sheet Feeder
As the demand for high-volume printing continues to accelerate, creative paper handling is needed to reduce errors and labor costs. This feat is deemed possible with workflow integration of sheet-feeder equipment into the print to finish operations. 
Before you proceed to do coil, wire, or perfect binding, having a pre-collated document saves you time and money. Standard collators and sheet feeders allow its users to accommodate 20 stacks of paper depending on size and thickness. These machines also offer different operational speed as some can collate up to 14,000 documents an hour, making them suitable for longer runs.
Cover & Binding
A book's cover is one of the most distinguished elements of any compiled printed material. They come in different thickness and weight, and there are available select printers in the market for each type of requirement. 
These printers can accommodate different kinds of material suited for book covers like coated and uncoated papers. Depending on your desired output and selected material, there's a big difference in how the ink will appear on the surface. 
For coated papers, you can expect the ink to have a brighter and glossy finish. On the other hand, uncoated papers with absorbed fibers will have a duller appearance in comparison.
After all the printing, cutting, and collating, what's left to do is bind all the materials together. There are a variety of binding techniques used for books and modules, like perfect binding, saddle-stitching, thread-sewing, spiral-binding, and many others. 
You can use specialized binding machines to expedite this print finishing operation. Some models available in the market can bind up to 60mm materials at a speed of 300 books per hour. 
Recommended Print-to-Finish Systems
EPSON WF-C21000
Experience seamless printing operation with EPSON WF-C21000 powerful technology that can print up to 100 pages per minute. Integrated with Ultra-High Capacity Cartridges, high-volume printing has never been as easy as this because it prints 50,000 pages in color and 100,000 pages in black and white. Perfect for printing educational books and modules. 
Fuji Xerox Docucentre VII
Whether you want a bright or dull finish, Fuji Docucentre VII C2273 CPS-E will give you that. Create a neat-looking book cover page suited for any style. This laser colored printer can accommodate different finishes and paperweights depending on the output you desire. 
Duplo Collator
Save time and enjoy maximum productivity with Duplo Collator's reliable feeding and accurate stacking functions. Suited for longer runs, this easy to use friction collator can systematically sort your papers efficiently. 
FRONT Electric Paper Cutter FN-E490T
Trim stacks of paper depending on the given requirement with FN-E490T Cutter. With its touch screen and push-button cutting features, polish the edges of your printed output to fit your bindery equipment.
FRONT Perfect Binder FJ436C
Expedite the print finishing process with Front FJ436C's seamless operations that can bind up books and modules with 60mm thickness at an impressive speed of 300 sets per hour.