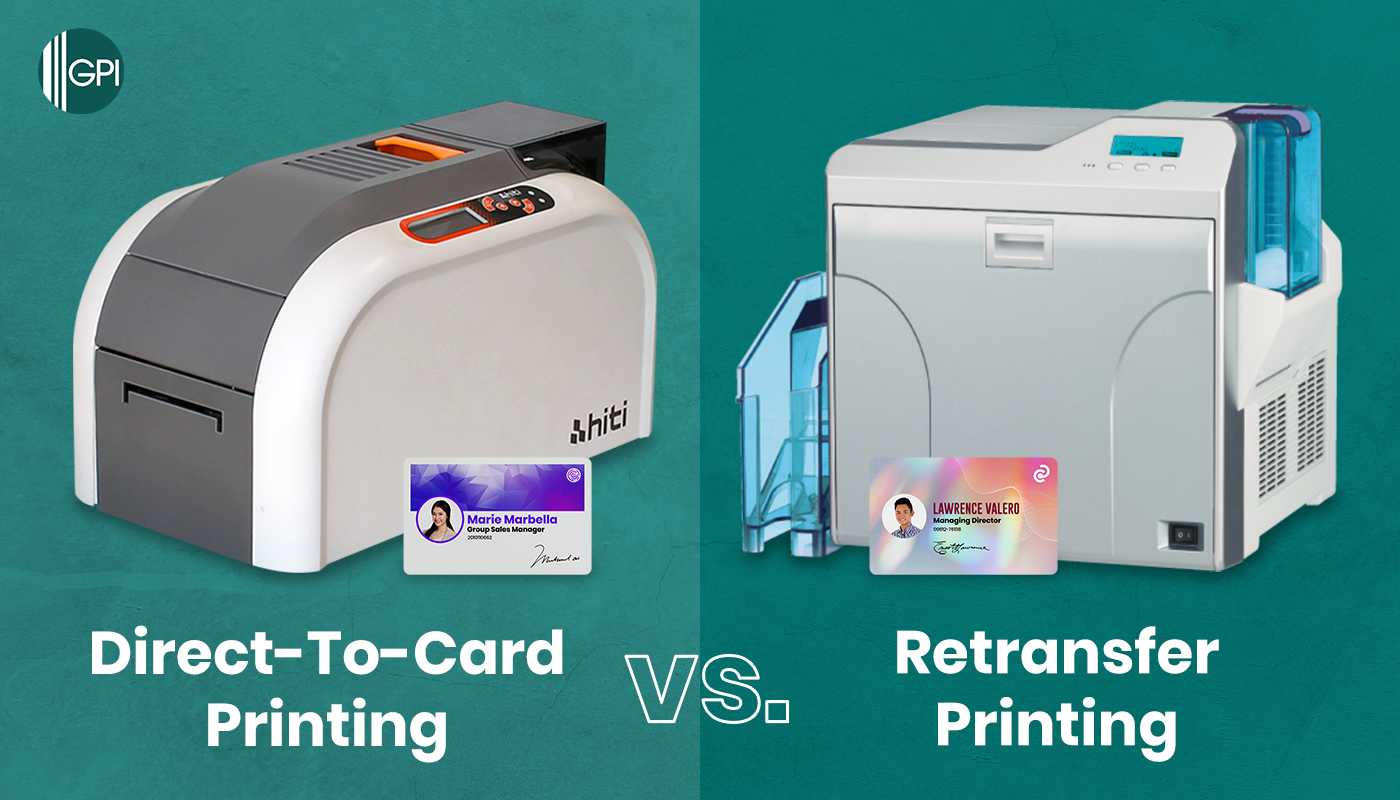 Know Which I.D. Card Printer Works Best For Your Business (Direct-To-Card Printing vs. Retransfer Printing)
Identification cards are one of the most important and common items any person can carry around with them. It's basically this personal, portable document that can quickly verify someone's identity, grant them legal access to someplace, and even allow them to purchase something with a quick tap. Hence why it's integral to have I.D.s that are very well-made especially when they carry so much vital information within their small bodies and are typically used on a daily basis.
Now, if you wish to have well-made I.D.s then it's best to invest in a card printer that can produce high-quality ones for you! But it's also not just about making sure they can produce with quality, you also have to assess what other features would fit your card printing needs and business the most. Once you've managed to figure out exactly what you're looking for in a card printer then it'll become easier to find the specific model that holds all those very features you desire.
As we showcase our two amazing card printers that produce excellent quality I.D.s, we'll also explain the difference between Direct-To-Card and Retransfer printing. This can further help you figure out exactly which card printer you'll eventually want to invest in.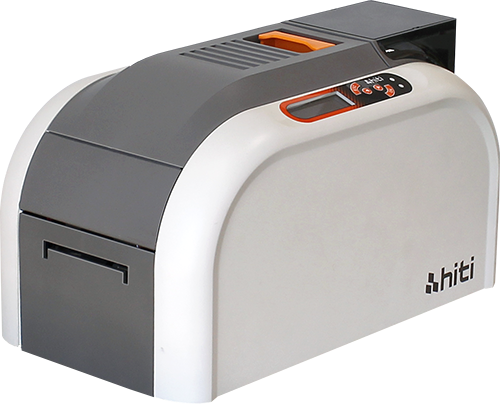 HiTi CS-200e Card Printer
Firstly, we have the HiTi CS-200e Card Printer which uses a Direct-To-Card printing process for an efficient high-speed and convenient low-noise performance.
A Direct-To-Card printing process does exactly what you think it does — directly printing onto a blank card piece! The process starts by heating the printer's ribbon with the design underneath a thermal printhead then pressing it onto the card. Voilà! You have your finished product! This works best for those who just require polished PVC I.D. cards that possess minimal solid colors.
Back to the CS-200e, it has an amazing photo I.D. editing function via its Card Productivity Management Software which incorporates a user-friendly Card Désiréé CS. This allows you to create customized I.D. designs in line with your business's tone and aesthetics. This software also provides a Batch Print Management so that you can print multiple I.D.s at once in order to reduce your overall printing cost!
Plus, its Wide-range Encoding Modules is capable of integrating I.D.s with a Magnetic Stripe, Contactless RFID, and even a Contact Smart IC Chip. It also has a handy QR Code Generating Software should you require cards with this particular feature.
Additionally, this card printer possesses an intuitive user interface and is overall designed for the ultimate space-efficiency that's great for businesses who require the production of simple, quality I.D.s on a regular.
Generally, Direct-To-Card printers are considered to be the most common as well as cost-effective card printers out there. Common because of the technology they use and cost-effective as these printers use up less consumables especially with regards to only really needing printer ribbons. It also requires only the basic additional maintenance supplies or accessories such as a cleaning kit.
It's important to remember though that with Direct-To-Card printers, you shouldn't try to print designs meant for Retransfer printers. In doing so, you run the risk of ribbon ink leaks which will ruin your card productions and waste your printing materials. Again, if simplicity is key for you then this is probably the type of card printer you and your business can invest in.
One final note is that, with Direct-To-Card printing, your cards will automatically have these small white borders on them as this kind of process does not incorporate edge-to-edge printed results unlike with Retransfer printing. If this is not something you'll be bothered by then, again, the CS-200e may be the one for you!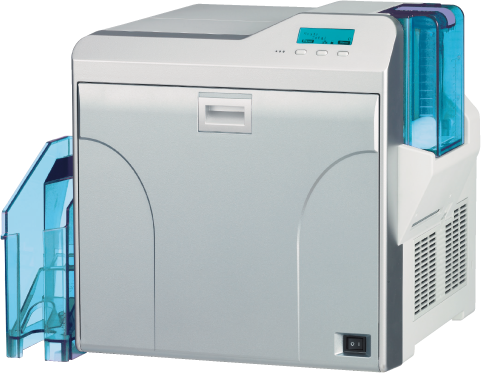 DNP CX-D80 Card Printer
The next card printer we'll be featuring is the DNP CX-D80 which uses a thermal Retransfer Printing process for an even higher-quality performance!
A Retransfer printing process involves a slightly more complex routine as compared to the previous method mentioned. The process goes like this: the printer's ribbon transfers the design onto a clear film which is then wrapped onto a blank card. The advantage of this process is that you can get more high-quality, photorealistic results as well as getting to incorporate more flexible, colorful designs onto your PVC I.D. card.
This process also uses quick-drying UV ink which, apart from producing truly vibrant and clear colors, also provides this gorgeous glossiness to the cards and gives them this fantastic durability when it comes to abrasions. Plus, UV ink is environmentally-friendly thanks to being free of harmful solvents! This is one of the reasons why the DNP CX-D80 is RoHS compliant apart from its overall environmentally-friendly design. 
But what makes the DNP CX-D80 so unique and special is its top-notch, multiple security features which can't be found on entry-level card printers. Using a retransfer printing method already gives this printer the advantage against any tampering and counterfeiting owing to, first of all, its Erase Function for K panel. This allows the user to delete card data onto the printer's ribbons to avoid unwanted data copying. Next, is its IPsec Security Protocols that ensure safe and proper authentication of data communication over the IP network being accessed. Then we have these reliable Kensington locks installed which serves as the cherry-on-top in terms of the printer's overall security measures.
As mentioned earlier, since it's a Retransfer printer then it can deliver edge-to-edge, damage-free printed I.D.s which means the entirety of the card is precisely covered without the white borders Direct-To-Card printed I.D.s have. It can also deliver cards required to have a hologram image overlay by using the optional laminating module CL-600. Furthermore, this card printer has an intuitive, user-friendly LCD panel for easy management and its compact body makes it a great space saver.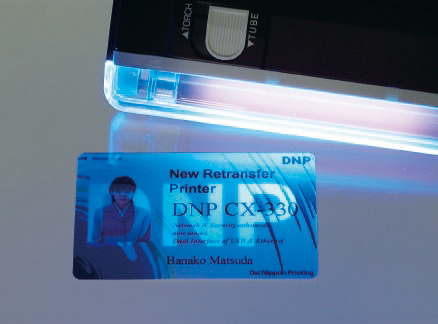 Generally, Retransfer printers are considered to be slightly more expensive as compared to other card printers. As it needs more consumables and involves more features than your standard card printer, then it would obviously cost a bit more. That said, these are the ones who can successfully take more intricate card designs without compromising quality nor production time as well as provide high-level security features for your utmost safety. If that's the type of I.D. production you require then the DNP CX-D80 may be the perfect addition to your printing business!
Now that you know about the differences between the HiTi CS-200e and the DNP CX-D80 as well as Direct-To-Card and Retransfer printing then we hope that you'll be able to choose the best card printer that can suit your business requirements with ease!
GAKKEN (Philippines), Inc. is the official distributor of the HiTi CS-200e and the DNP CX-D80 in the country. To inquire, call us at our hotline: (0905) 434-0623 or send us a direct message at our official Facebook page: https://www.facebook.com/gakkenphilippines/.