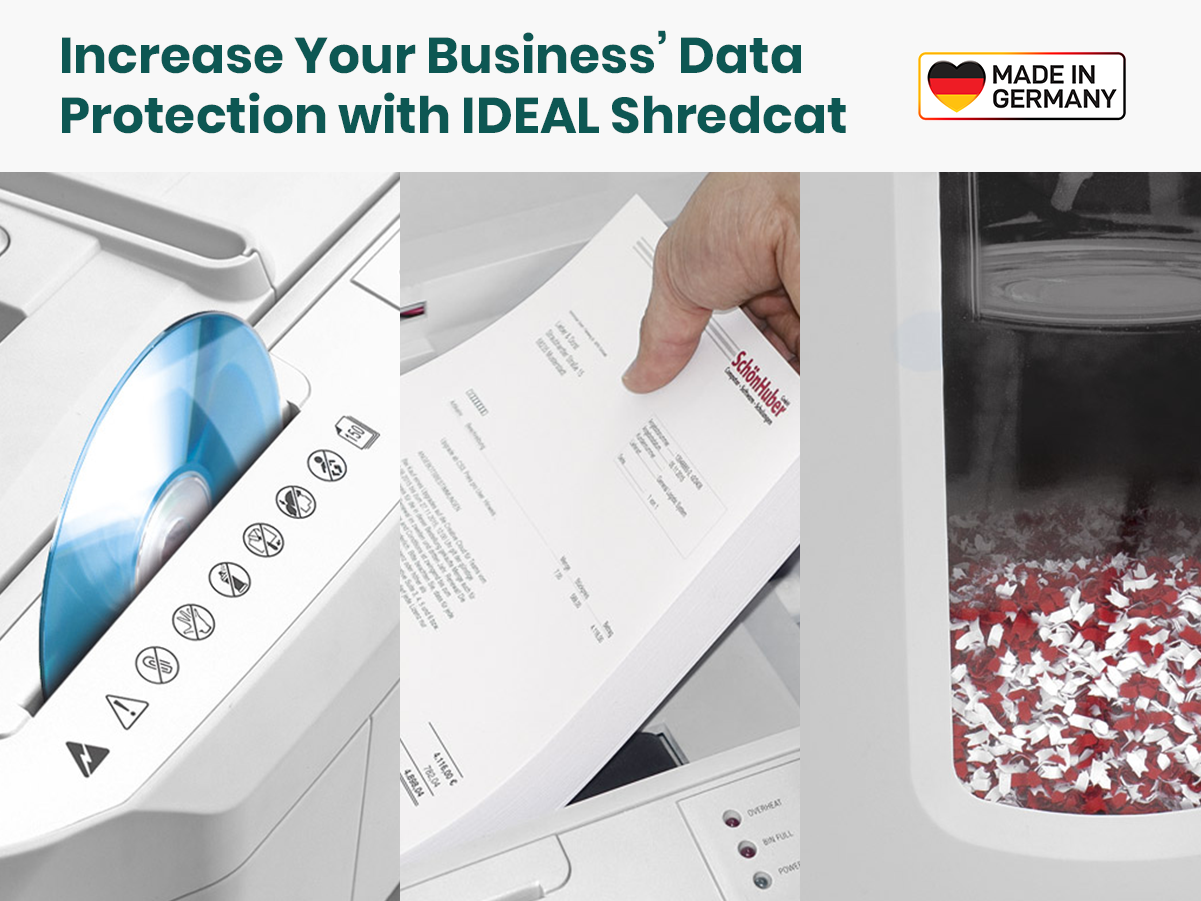 Increase Your Business' Data Protection with Ideal Shredcat 8280CC
Paper shredders are a must-have in every office to keep your business safe. Businesses handle sensitive documents, financial statements, credit cards, CDs, DVDs, tapes, identity cards, confidential reports, and other sensitive papers in your office that can lead to stressful situations in the future.
Not properly disposing of private documents is a potential risk for identity theft or fraud. When you fail to comply with the Republic Act 10173 – Data Privacy Act of 2012, you can be fined or sued by people who got their information compromised. It can also cause damage to your business if you have had a data breach. Your potential customers will lose your trust and will look elsewhere for their products and services.
To avoid a data breach, you need to shred the papers. Already shredded documents can't be put together again for one to see the full details. That's why every business owner needs to have a heavy-duty shredder machine with level 3 to 6 security.
The IDEAL Shredcat is a solid choice. It is high-capacity and energy-efficient and makes a perfect partner in your office. The Ideal Shredcat 8280CC is a compact patented Automatic Feed Document Shredder that can automatically shred up to 150 A4 sheets and has a separate cutting unit and a bin for disposing of CDs and DVDs. It's also a DIN Level P-4, ideal for shredding sensitive and confidential information such as payslips, personal data/files, contracts, medical reports, and tax documents.
The Ideal Shredcat 8280CC features:
Convenient, automatic shredding of up to 150 sheets. 

Cutting Size (mm) : 4 x 10

Insertion Width (mm) : 220

Cutting capacity (70 grms) : 150 / 6 Sheets

Separate cutting unit for CDs/DVDs/plastic cards.

Bin Volume (Litres) : 30 L

Motor capacity (Watt) : 200

Dimension (W*D*H)mm : 444 x 360 x 520

Weight (kgs) : 14.5
Invest in one today! For inquiries, call us at the following numbers or visit a GPI office near you:
San Juan, Metro Manila

Pangasinan

Bicol

Cebu

Davao
(02) 8721-2366
(02) 8721-6144
(02) 8721-2251